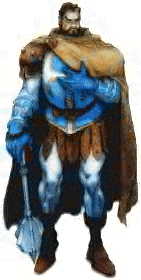 If playing a multiplayer game with anything less than seasoned veterans of the game, at least one Cleric in the party is vital. With cure wounds spells, he can make the difference between spending a quarter on the game, or spending several dollars. Not a bad choice for beginners either, as they will be able to cure themselves a little before they die.
The cleric's attacks aren't especially powerful, but they're decent enough to get by, and his slash move comes out nice and quick. He can't wield any swords which can be a problem when you have to face Gargoyles without a magical sword, but then you've always got Holy Word/Earthquake.
The ability to turn undead also comes in awfully handy, especially to get rid of pesky undead when fighting Tel-Arin or the Lich. Actually, his other defensive spells make certain bosses much easier, particularly, using Hold Person on Tel-Arin helps to keep him pinned down to prevent him from casting haste which works nicely. The Cleric is also pretty much necessary to uncurse both Cursed Swords (actually for Cursed Sword 2 he IS necessary).