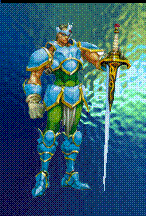 A fairly straightforward character, suitable for first time players, the Fighter goes around slicing up enemies.
The fighter's rising attack works well to clear out any enemies in front of him, but leaves him somewhat vulnerable from behind. Equipping the fighter with a Short Sword is quite cool as he replaces his shield with the Short Sword and starts attacking dual-wield style.
Compared to the dwarf, the other melee character, the fighter lacks as much raw power, but overall moves much more fluidly. A nice perk for the fighter is that he seems to have a knack for getting the best items out of chests.