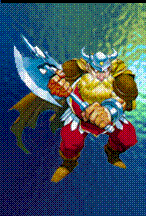 The Dwarf can be agonizingly slow on the draw for many of his moves, especially for throwing weapons, but performing simple combos where each attack does multiple hits multiplies to equal EXTREME damage.
If you can connect at the right distance a slash move, cancelled into a rising attack, you're pretty much guaranteed to kill any low level monster, or do 1/3 - 1/2 a life bar off of a boss. When in a bad spot, the dwarf's rising attack can help him escape as he rolls forward a bit on the ground then comes flying up with his axe spinning hitting any enemies around him.
The dwarf's ability to get extra treasure out of chests allows him to actually ultimately get more gold than even the thief. Like the fighter, the dwarf is one of the more straightforward characters in that mostly all he does is go around hacking things up, but it does take some skill to get around his slowness which can really be a liability at times. Once that is under control however, the dwarf can be one of the most powerful and effective characters in your party.