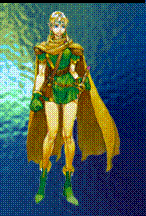 An apparently well rounded character with decent fighting ability, as well as a load of offensive magic to sedate those boss monsters. The Elf combined with the Cleric makes for the best two character team, each competent in melee fighting with complementary protective and offensive spellcasting.
Despite her positive attributes though, the Elf's very low hit points forces one to be more cautious when playing her. Especially in the early battles, with such low hit points, playing with the Elf leaves little margin for error.
If you can get past that hurdle however, the Elf plays very well throughtout the game. Competent enough fighting skills gets you through the normal monsters, and the magic spells can really make the difference against the bosses.