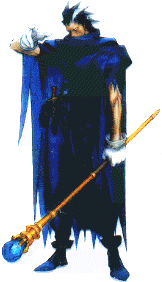 While the black Magic User is probably the coolest looking character, what with the spiky hair with white streaks and all, he's definitely the most difficult character to play with. Playing as the mage requires a much different style of play as you will not have much to contribute to melee fighting, but spell casting will become critically important.
The mage has very negligible fighting ability and a puny number of hit points. The mage has other liabilities such as not being strong enough to lift chests and lacking standard "rising attack," "slash attack," and "panic moves" that the other characters posess.
Why play the mage then? He can often singlehandedly kill bosses with his plethora of offensive spells. Normally difficult boss encounters, such as the Man Scorpion, the Dark Warrior and Nagpa become trivially simple with a ready mage.